Of course I'm biased about Disney, because I love it.
But when you hear people talk about the pride Disney has for their customer service – it aint no joke.
We've always had pleasant experiences for the most part at Disney parks and Disney Store.
Only once did we experience an unfriendly cast member.
We were getting on Mission Space and I was carrying my EMPTY resort mug.
The lady at the beginning of the line stopped me to tell me drinks aren't allowed – I explained it was empty.
She huffed and mumbled something about me ruining the ride for everyone else.
When we finished the ride, I made sure to tell the next cast member I saw how rude this woman was.
It's one thing to hear/see/experience rude vacationers, but I would never expect that from Disney employees.
Just before we left for our trip in September, I placed an order on
www.DisneyStore.com
for some Christmas presents for Persephone.
At the time, they were offering a promotion for the Cinderella Castle Play set (see below) on sale for $49.95 (regularly $89.95) if you spent $50.00 or more.
I've read some reviews on the castle about it not holding together very long and that the figurines looked funny, but I decided for ½ price I couldn't pass it up.
UPS delivered the castle while we were still at WDW.
Once we got home, I began to stow away the goods and noticed the box containing the castle had several holes and a rather large slash.
So big in fact, I could stick half of my hand inside it.
I never completely opened the UPS box because I automatically assumed the castle was damaged.
I emailed DisneyStore, they said they could issue a replacement and would pick up the damaged one.
After
several
weeks of miscommunication, I finally got a return label and UPS picked it up.
A week passed and I still hadn't seen the replacement castle, I sent another email to DisneyStore and was asked to call - this can't be good.
Sadly, during my call I was informed the castle was out of stock and they weren't sure if/when it would be replenished.
I was upset to say the least, but had a little hope because I KNEW I saw several of the same castle within the Disney parks when we were just there.
I made a post on a Disney group I'm in on Facebook asking if anyone was willing to check for me and have it shipped to my home, I would be willing to pay for the trouble.
A few people replied letting me know the castle was G O N E.
Discontinued gone.
When I started searching for the item online (Amazon and Ebay) the price for the damn thing was triple the Disney price.
Obviously something was going on – why else would the item be so expensive?
::insert bulging eye balls::
Desperate and sad, I went searching.
Found that Disneyland has a castle inspired by their Sleeping Beauty castle and Amazon had it for $104. It's essentially the same, only the castle is different - duh. But each light up and I think make noise and came with 10 figurines.
I went ahead and ordered it.
But just to be 100% sure, I decided to reach out directly to Disney Parks Merchandise via email.
I received a reply on Monday telling me the exact sku# for the item I wanted WAS available.
There might be hope at the end after all.
Wednesday when I had time, I made the call to Disney Merchandise explained what I was looking for and that I was told it was available through email.
She was sweet, but gave me the dreaded news that the item was no longer in stock.
In fact, they had been completely out for over 2 weeks.
She even said she's only sold 2 of those Cinderella Castle play sets this entire year.
But earlier this month, Disney released a brand new castle design and everyone jumped on the old model.
They're ALL GONE.
ALL.GONE.
WAHHH!
At that moment I realized two things…no wonder it was probably on sale in September for $49.95 with a $50.00 purchase and no wonder the prices had skyrocketed on other online outlets.
She felt bad, and gave me an email address to file a complaint if I wanted to.
Once again, I typed up the dilemma that was nearing its 2mo mark.
I didn't really expect a personal response.
Maybe just something like "We're sorry, thank you for your feedback."
But do you want to know what happened?
This morning I received a phone call from someone with Disney Merchandise who apologized profusely about the entire mishap.
She did explain that because of the new castle, Cinderella has been given the boot.
But she understood the error was on their end (or at least whoever wrote me the email on Monday) and she said:
"So we would like to send you the new castle free of charge."
::insert bulging happy eye balls::
Are you kidding me?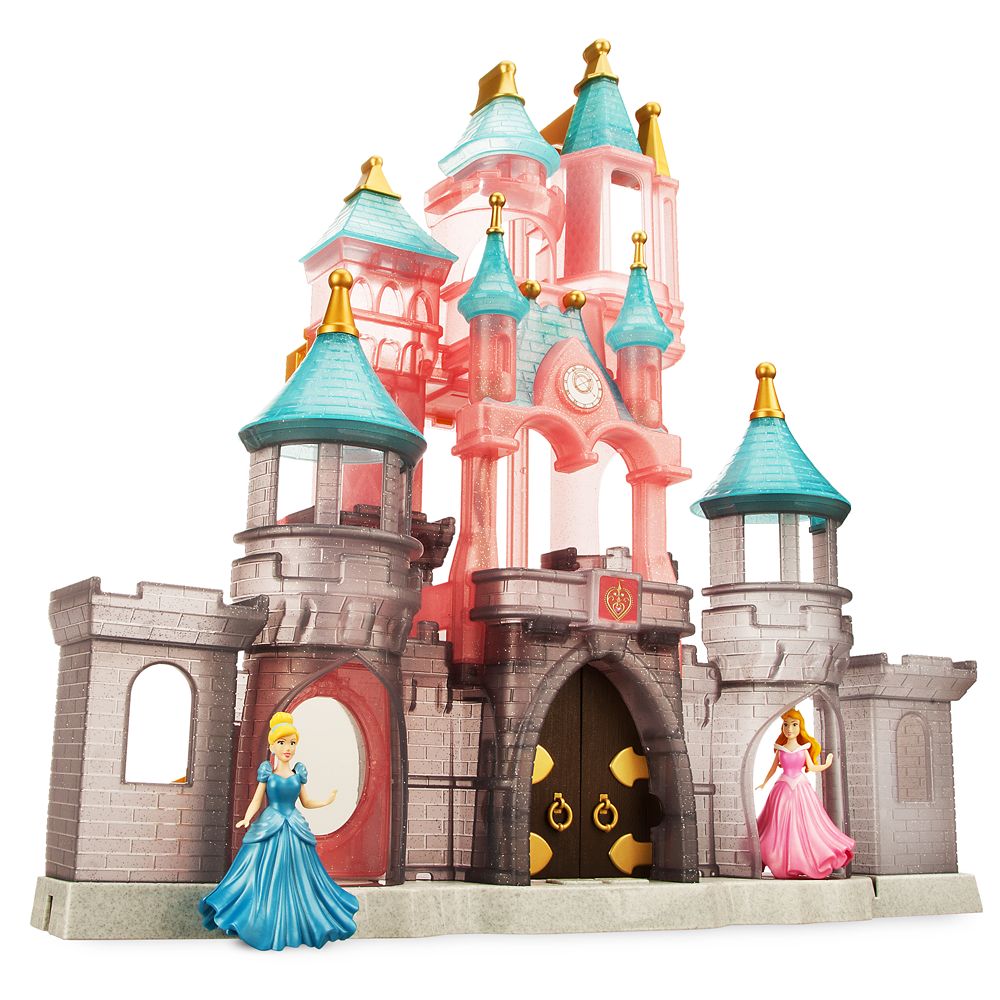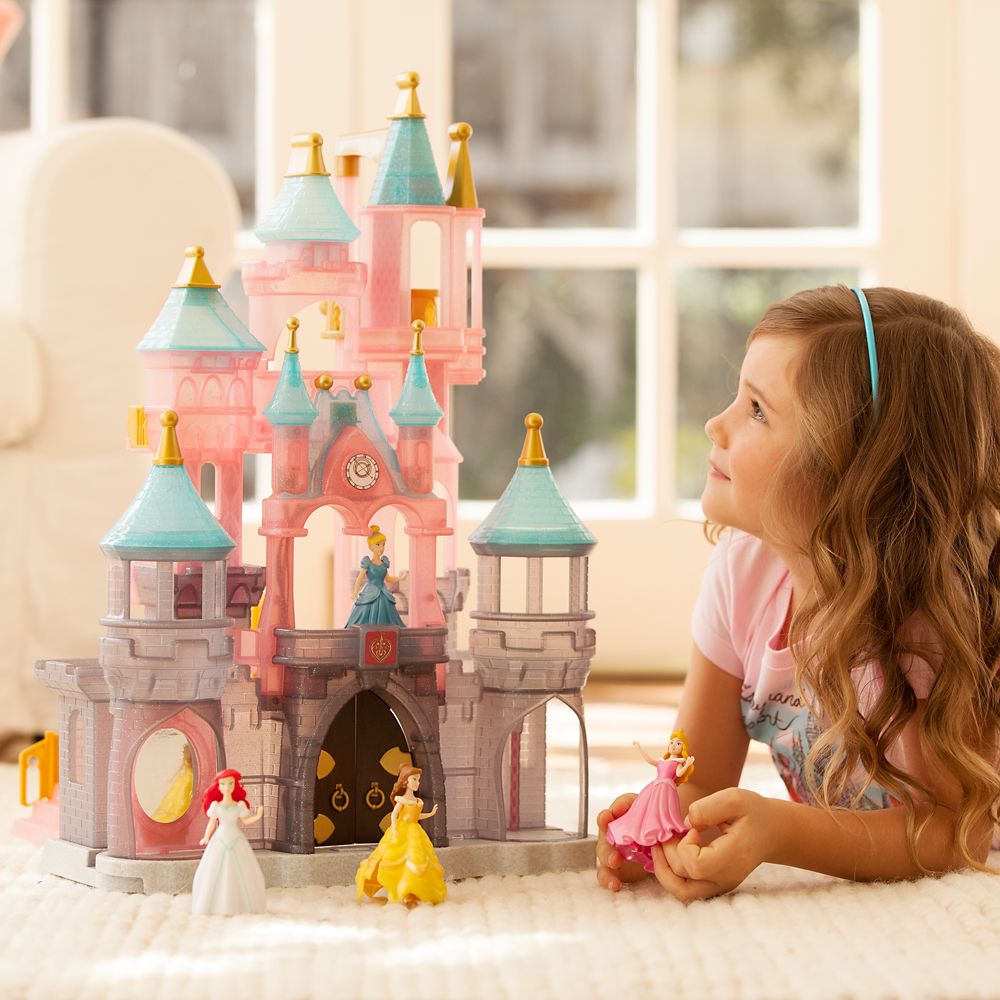 A castle of $99 value….FREE for us?
Hip Hip Hooray!
So although I won't be getting the Cinderella Castle Play set.
I already ordered (and received) the Sleeping Beauty castle play set and the new castle is on its way.
I guess it just goes to show, if you never try…you'll never know if a resolution can be met. From the bottom of my heart, THANK YOU Disney for making this as right as you possibly could. A lot of people feel Walt's vision has been forgotten, but clearly not the case this time. I know our daughter is only 3 and has no idea and could care less if she got a castle or box of sticks for Christmas. But the excitement on her face makes this worthwhile!
Thank you pal!